I am a self-proclaimed stamp and scrap-a-holic. I love just about all crafty products! We live just north of Seattle and my stampin space is "everywhere" in the house. So sit back, grabba Starbucks or a coke and take a moment to relax and visit with me! I'm glad you stopped by!
Saturday, June 5, 2010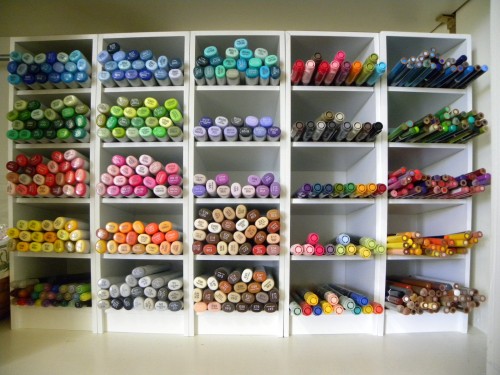 Isn't this a fabulous storage system for markers? You can win one on Cindy Coutt's blog~ Go enter now!
Enter at Cindy Coutts Blog
: http://cindycoutts.com/?p=4483
I use mine specifically for Copics and I don't have quite this many (Mine fill only ONE storage unit)
My plan is to order a 2nd and 3rd one for my SU Markers and Marvy markers, and Prismacolor pencils! I can't wait!
The units are very well made and sturdy. They clean up easily and have a nice narrow profile with a flat surface on top. The pens are held mostly horizontal but with a slight angle so the pens don't come whipping out when you pull a pen out. It's totally worth the 16.99 for me!
I might have some other pics to share tomorrow....It's been such crummy weather around here and I only like to take pics when it's sunny/warm out which explains why I haven't been around posting on my almost extinct blog!!
Today I met one of my online friends that I have known for more than 10 years!!! Renee Kurtz and her hubby from Gingerwood were in town for a Mariner's game this evening (all the way from Great Falls, ID)! Now the team's been doing great, but that's not the only reason they came to town...they're leaving for a cruise tomorrow! How lucky, huh? Today before the game, Renee and I went over to the A-Muse store in Greenwood and had some fun there~ It was a short visit but definitely FUN! I can't wait for her to come back again so we can spend more time shopping and playing~
Have a great weekend, everyone!
Elaine
Posted by

Elaine
at 12:30 AM
2 comments: